Culligan® Reverse Osmosis Drinking Water Systems
Get great tasting water right from the tap!
Drinking Water Solutions
A Culligan® Aquasential™ Reverse Osmosis Drinking Water System provides great tasting water every time. Our units use the most advanced technology available, which is able to reduce impurities and contaminants far more effectively than carbon filter pitchers and faucet filter attachments.
Never worry about chlorine, "rotten-egg smells" and foul tastes
when you rent or buy a Culligan® Aquasential™ Reverse Osmosis Drinking Water System!
These filters use a process called reverse osmosis, which pushes water through a semipermeable membrane. The membrane allows water to pass through, but not impurities or contaminants, which are then flushed down the drain.
Culligan® Aquasential™ Reverse Osmosis Drinking Water System are easy to use and maintain - simply change out the cartridges annually, or make a service appointment with your local Culligan Man™. Our compact units fit easily under a sink, and can be plumbed through your fridge, sink and even your ice maker.
Culligan now offers the ClearLink PRO™, which uses wireless technology to switch your main faucet between unfiltered and reverse osmosis filtered tap water at the touch of a button. No more drilling a hole in your countertop or losing a soap dispenser, which is required in a standard reverse osmosis system installation.
Learn more about the revolutionary ClearLink PRO™.
If space is a concern, Culligan now offers an Aquasential™
Tankless Reverse Osmosis Drinking Water System
. It provides a continuous flow of water, features a sleek, modern design and is less likely to leak than a traditional RO system.
---
Benefits of a Culligan® Aquasential™ Reverse Osmosis Drinking Water System
Provides a continuous supply of high-quality drinking water at your kitchen sink
Removes dirt, silt, clay and other sediments
Removes unpleasant tastes, including sour, metallic and soapy tastes
Removes unpleasant odors, including chlorine and "rotten-egg" smells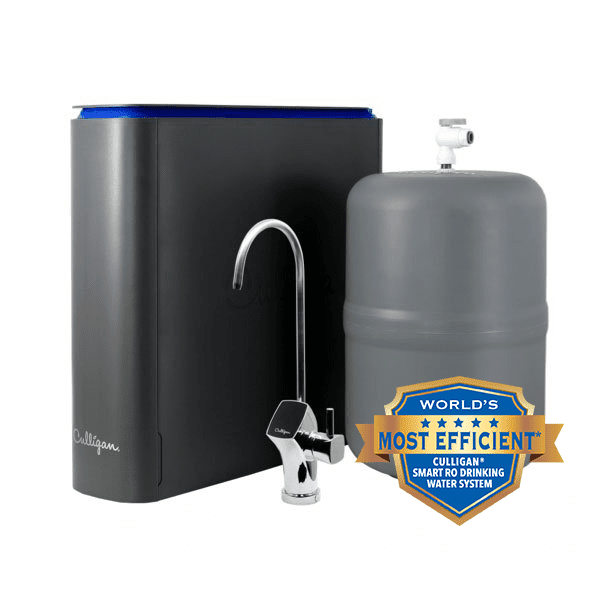 Popular Culligan® Reverse Osmosis Drinking Water Systems
Culligan Pricing
Looking for pricing? Every Culligan® Aquasential™ Reverse Osmosis Drinking Water System and installation plan is customized based on your water treatment needs. Your local Culligan Man™ will review your water concerns, the size of your household and even your home's plumbing before recommending the perfect drinking water solution for you and your budget.
*Efficiency is based on 3rd party testing to NSF standards.
Latest
Blog Posts
When it comes to water treatment systems, Culligan Water offers a better return on investment than any big box store....
Culligan Water solutions help you become greener, cleaner and more cost-efficient with your water use. Learn how.
Since moving to Texas I've been bothered by the hard water, but now I own expensive appliances I started noticing it was messing with not just me and the showerhead but also leading to trouble with my dishwater that was less than a year old. I decided to finally install a water softener. My parents and grandparents both use Culligan in a different state so I decided they'd be my first stop. They installed the water softener and after a few weeks my dishwasher was already working better. I also went with renting a filter system under the sink since I never cared for the taste of the water here and I'm drinking more water now and not dealing with bottles everywhere. It's been a few months and everything is going well. I've not needed anything fixed to know how that goes, but the first salt delivery went fine.

Hilary Storm
- Culligan Customer